Best Treadmill at Home
Disclosure: Strimoo is reader-supported. We may collect a share of sales or other compensation from the links on this page.
WHEN BUYING A TREADMILL, YOU SHOULD PAY PARTICULAR ATTENTION TO THE SCOPE OF FUNCTIONS. BECAUSE THERE ARE THE BIGGEST DIFFERENCES BETWEEN THE DIFFERENT MODELS. WE SHOW YOU FIVE IMPORTANT PROPERTIES THAT A GOOD TREADMILL SHOULD HAVE AND INTRODUCE YOU TO THE TOP TREADMILLS ON AMAZON.
One of the most important functions that your new treadmill should have is (i) the regulation of the speed. You should be able to set the pace yourself and also (ii) adjusting the inclination angle of the belt is a useful additional function. Good treadmills have many different (iii) training programs, so you always stay motivated and can adapt the program to your training status. If you want to measure your heart rate while running, your treadmill should have an (iv) integrated heart rate monitor or the option to connect a heart rate monitor. You should also consider (v) the size of the treadmill: a large treadmill offers more tread, but also takes up more space in your home. Treadmills with a folding function also fit in small apartments.
The Best Treadmill from NordicTrack at Amazon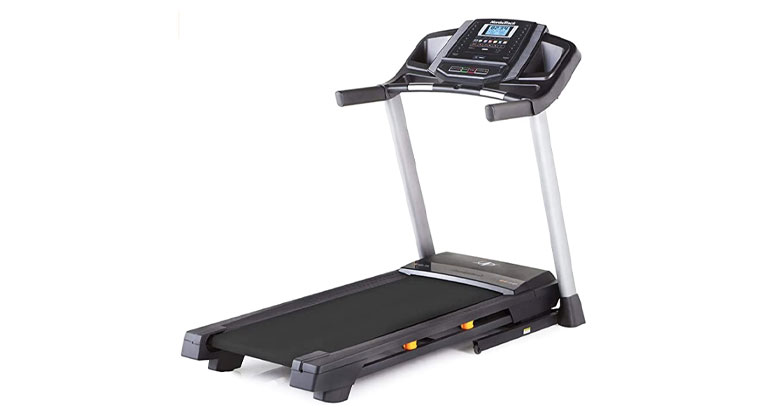 In the product category "treadmills" on Amazon, we searched for the sports equipment with the best customer ratings and looked for the top 3. Only products that had more than 100+ ratings were considered. Our number 1 is the NordicTrack T Series Treadmill (as of June 2020).
With 1 year iFit free membership this professional treadmill offers user weight capacity of 300 Lbs and 10 percent incline. The treadmill with a folding system can also score with a damping system and preinstalled programs. But that also has its price: the sports equipment currently costs $ 1,130 for 7 inches and $ 1,799 for 14 inches. Most customers are convinced of the NordicTrack treadmill and award an average of 4.2 stars.   
Over 3800 Positive Feedback Customers rate positively this machine for both walking and running. The compact size is also found to be good. The treadmill could be a bit quieter, but most customers still find the volume to be pleasant.
Xterra Fitness a Budget Machine with Heart Rate Belt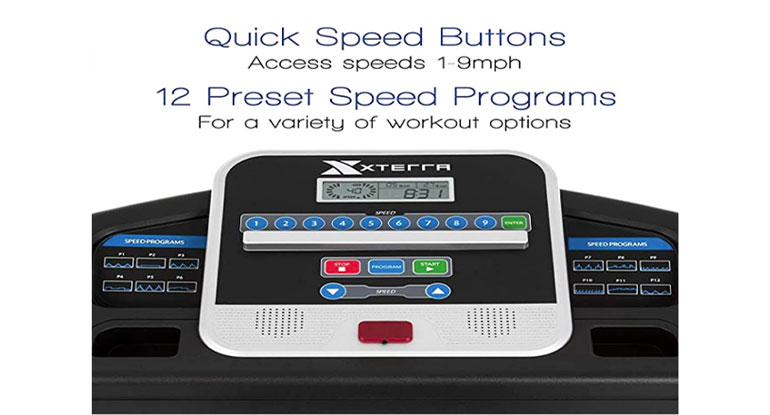 The Xterra Fitness TR150 professional folding treadmill is sold on Amazon for $ 349. The manufacturer advertises with a 7 hp engine and a generous 16" tread. Customers rate sports equipment with 4.1 stars. The construction of the treadmill is no problem for the customers but this product can expose you to chemicals including toluene and acrylamide which are known to the state of California to cause cancer, birth defects, or other reproductive harm. Installation is easy and the care of the device is well explained by the operating instructions. At least that's what most customers describe, individual buyers call the instructions for use "very bad". The large tread is well received by the buyers and the damping usually receives positive feedback. Some critics would have liked even more dampening.
MaxKare Folding Machine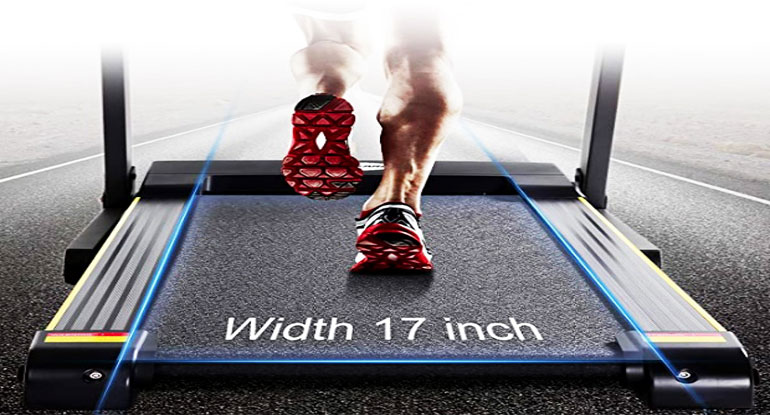 The MaxKare treadmill is a very special treadmill: It is 17" wide, foldable, and 15 pre-set cardio programs the manufacturer has produced a masterpiece. Foldable design makes it easy and helpful to move or store the treadmill in small spaces. It has an anti-shocking system that can withstand a maximum user weight of 220 Lbs. The sports equipment has a low price tag of $ 389 and received 4.3 stars so far on Amazon.
According to customers, the treadmill is ideal for startup runners. It is very space-saving and the various settings are easy for most customers. Some buyers are disappointed with the LCD display. It is particularly suitable to do personal exercise sessions - customer judges that it is recommended for new users. Most customers like the design of the treadmill, storage flexibility, wide running area make and last but not the least at an affordable price make this a Best Buy Machine
Related Post
Subscribe

to our weekly newsletter!

Get coupons from your favorite retailers sent to your inbox at the beginning of every week.
You can cancel anytime.